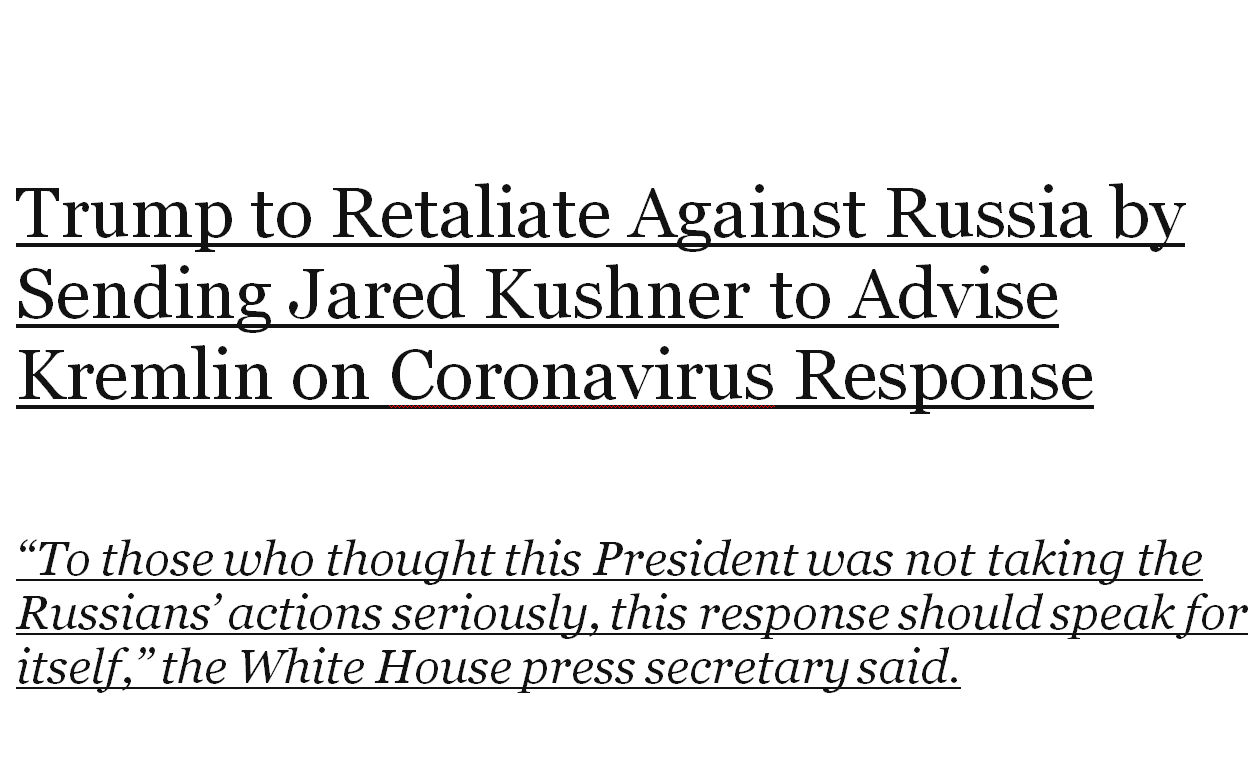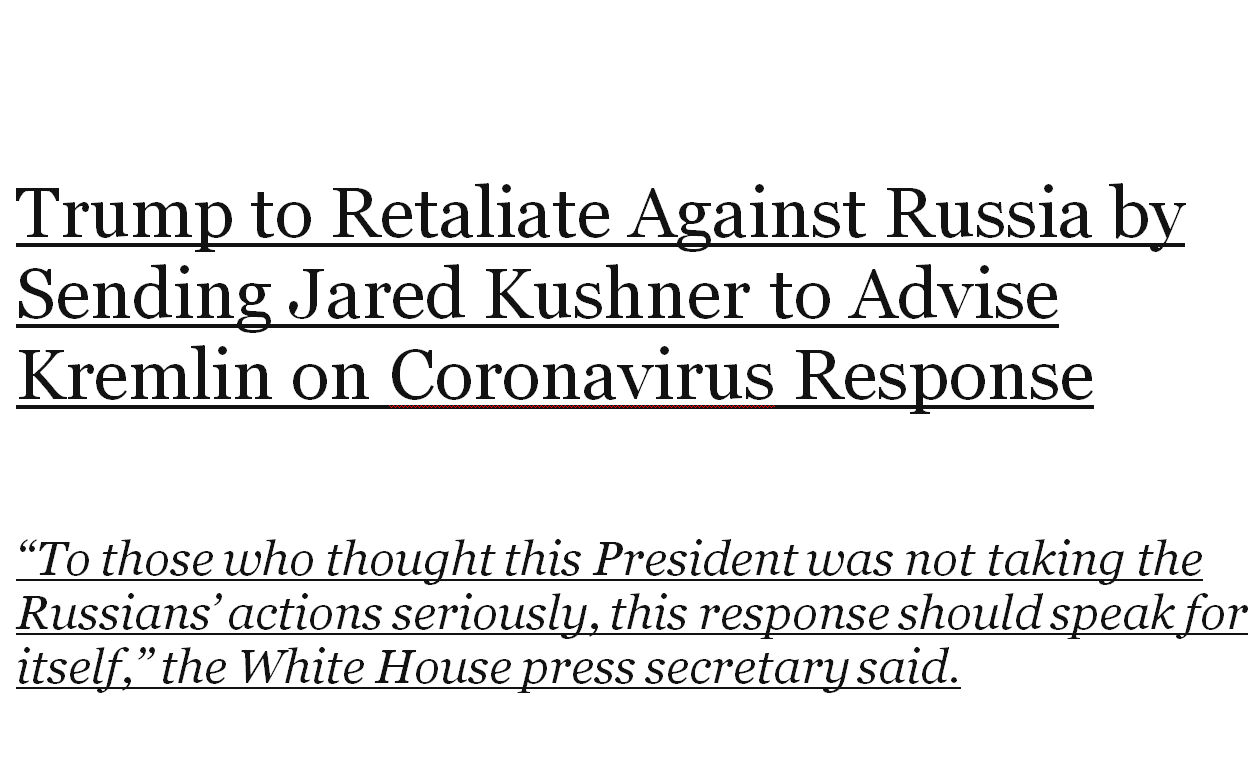 I have to admit that I'm extremely jealous of
The New Yorker's comic writer Andy Borowitz.  How does he
do this?  Just
look at what he wrote here.
We all have access to the same information.  How is it possible that, several times a week, he combines two or more of Trump's attributes into a "news" story that's so utterly hilarious?
Yesterday, I decided to declare war.  I wrote down (below) as many data points as I could think of that are happening in Trump's disturbed world, and spent a bit of time blending them in certain ways that I thought may make people smile.  Nothing.
I haven't quit, but I'm deeply discouraged.
—
Jared Kushner incompetent, though in charge of solving every major problem facing the United States
Crushing free press / enemies of the people
Anti-science
Disregards public health officials
Hates Andrew Cuomo for his success
Evangelicals, who aren't real Christians, adore him
Sends ventilators to Russia
Has trouble with ramps / slurring speech
Wants to be on Mount Rushmore
"No one's done more for the blacks"
Interview at Lincoln Memorial
Not Making America Great Again
McDonald's cheeseburgers / getting poisoned
Bill Barr his partner in obstruction
Supreme Court hates him
Probably going to prison or moving to Moscow
Hugs U.S. flag
Bans on confederate flag
Protects confederate statues
Racists were traitors in the Civil War
"Fine people"
Voter suppression / gerrymandering / closing polls
Destroying environment / climate change / Paris agreement
Ruining education / Betsy DeVos
Evangelical Christians think he's of high moral character / good role model
World laughing at Trump, U.S.
Failed rally / Tulsa / Oklahoma
Fox News becoming a bit critical of him
Slowing COVID-19 testing
Plummeting in polls
Detested internationally
Ineffective with Kim Jong-un
Failed trade war
Niece's tell-all book
Bolton's book / only cares about re-election
Generals' denunciations
Mexican border wall fail / Canada builds wall
Reality TV
"You're fired"
Photo op
Stimulus checks
I don't kid / Trump kidding
"Fake news"
Supporters infecting one another
No second wave
Dominate the streets
Kids in cages
Pelosi and Schumer
Nepotism
Hillary's emails
Putin's bitch
21K+ Lies
Press secretary lies conflict with Trump's
Visibly depressed
Police violence
BLM popularity
Pence kisses Trump's ass
Doesn't know geography
Doesn't speak well
Queen Elizabeth wants to kill him
Jeffrey Epstein didn't commit suicide
Taking a knee
Where is Fauci?
Clorox / ingesting disinfectants
Melania doesn't like him
Creepy with Ivanka
Don Jr. and Eric say massive business involvement with Russia
Hunter Biden / Ukraine
Was impeached
Senate cowardly
Unemployment
Job loss to China
Leaders of enemy countries all want Trump to stay